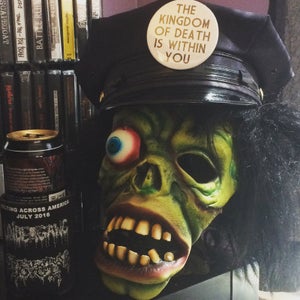 $

777.77
UPDATES:
5/15/17
Morbid Tales II has been approved, but still waiting on the printer to finish the job. Thank you for your patience! Look for not only a pre-order surprise, but a nice coupon as well!
5/7/17
Morbid Tales II is finally in queue at printer, hope to have this shipped out in a week. Thank you all for your patience! Volume II reprints start shipping Wednesday...
JENZEITS COSMIC UNIVERSE tape (Chad Davis) in production now. Limited to 200 copies, comes with a digital download code. Should be out at the start of June.
https://jenzeits.bandcamp.com/releases
4/19/17
Morbid Tales II is at the printer after an issue with first file. Thanks for your patience, it looks amazing and is a fantastic read.
WHOLESALE:
Currently in stock...
Conspiracy issue - $4 wholesale / $7.50 retail
Morbid Tales II - $7 wholesale / $13-14 retail
Missionary Work LP - $9 wholesale / $15-16 retail
CONTACT:
Email: deathwoundzine@gmail.com
Facebook: Death Wound Zine
Instagram: @deathwound